Dentists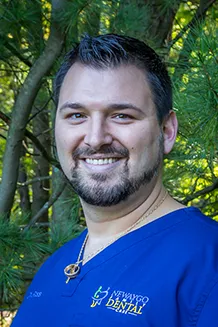 Dr. Ross Nelson
After graduating from Newaygo High School in 2003 and following his father's educational route, Dr. Ross Nelson joined the family practice. He brings with him the benefit of another University of Michigan School of Dentistry degree signifying a unit of excellence that can be provided only be such a respected center of learning. Dennis and Ross work hard to embrace the latest technology for the continued benefit, comfort, and safety of their patients and staff. Both doctors hold a firm belief that the best care is provided when technology is melded with exceptional dental skills and practices. This father-and-son team and friendly staff look forward to serving you and your family. Visit us to see the difference experience, technology and education can make when caring for your oral health.
Dr. Dennis Nelson
Dr. Dennis Nelson, a native of Grant, graduated from Grant High School in 1966. After serving in the US Army, Dr. Nelson completed his undergraduate studies at Central Michigan University and went on to graduate from the University of Michigan School of Dentistry in 1978. Upon commencement, he was presented with the Francis B. Vedder Society Award for excellence in Crown and Bridge Prosthodontics. He returned to his hometown and maintained a successful practice which was opened in 1980, until his son, Dr. Ross Nelson, joined him in 2011 to run and manage a state-of-the-art facility in nearby Newaygo.
Hygienists
Trisha
Trisha is a Tri-County High School graduate. She then went on to GRCC and graduated from the dental hygiene program in 2015. She married her high school sweetheart, Talon Tramper, in 2016 and they have two blue heeler puppies named Stella & Ace. She enjoys hanging out with friends, doing yoga, and spending quality time with family (especially nieces and nephews ;)). Trisha enjoys dentistry because there's always something new to learn and she loves getting to know all of her patients!
Cathy
Cathy has worked in dentistry since 1990 and has worn many "hats" (front office, assisting, and hygiene). She says, "It is the second best decision I made next to marrying my best friend, Kelly. He and I ambitiously built our home and continue to take on DIY projects". Cathy has many fur babies, including horses. She loves camping with them and trail riding. In the winter months, she keeps busy with jewlery making. Cathy is happy to be a part of this dental team and looks forward to meeting you!
Jocelyn
Jocelyn is the latest addition to our hygiene staff. She is a recent graduate of Ferris State University. She is married to husband, Colin. Jocelyn enjoys kayaking, hiking, walking her dogs, camping and crossfit.
Assistants
Melissa
Melissa is also one of our assistants, having been with us since late 2011. Since joining our practice she has found a nice niche in patient care. Melissa finds dentistry interesting and loves getting to know our patients. Outside of the office, Melissa is married to her husband Kurt and they have two adorable childres, Noah and Natalie. They enjoy camping, kayaking and spending time with her family.
Teri
Teri joined NFDC in 2017. Her hobbies include fishing, attending her niece's and nephew's sporting events, entertaining, and having a good craft beer. She has been married to her best friend Brian since 1996. Teri loves to spend time with her family and she loves her job as well as the people she works with. You won't be able to miss her... as you'll always hear Teri singing loud and proud down the corridor.
Alysha
Alysha joined our staff in 2018. She LOVES her job and enjoys meeting all our patients. Her hobbies include hanging out with friends and family, fishing and competing horses. She is an animal lover with two dogs, Chevy and Moose and a horse named Chrome. Watch for Alysha at the local barrel races!
---
Front Desk Team
Lacey
My name is Lacey Wiseman! I joined NFDC in 2021. I look forward to coming to work every day. My family is a huge part of my life and I'm so glad I get to have a second family here at Newaygo Family Dental. I have really enjoyed meeting all of our patients. Outside of the office, I'm married to my husband Joe and we have two children, Gracie and August. Joe and I love spending time outdoors and making memories with our kids. I love sports! Go blue! Camping, kayaking, hiking are some of my favorite hobbies. I'm so blessed to work with such an amazing team and I look forward to meeting you!